It's that time of year again. Almost every week, I find a leaflet on the doormat from a local estate agent who wants me to sell my house.
That's not what makes me angry.
What makes me angry is that all the leaflets are so badly written.
Here are some examples.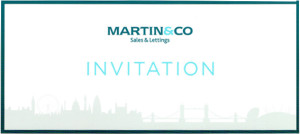 At first glance, you might think 'Oh goody, I'm being invited to a party!' But no. Disappointment lies on the other side of each card. Turn them over and here's what you see:
The Directors of Mann invite you to accept a complimentary valuation of your property
Martin & Co Beckenham invite you to accept our offer of a free no obligation sales or lettings appraisal
I would like to personally invite you to a free market appraisal of your property
It gets worse. The third example also says (in white curly script on a background image so you can hardly read it) 'Don't miss out on your opportunity to be part of The Address success story'.
Why the hell should anyone care about being part of the estate agent's success story???!!!
What's the problem?
They are all the same. And they are all writing from their own perspective, not from the point of view of the reader (there's more on that below).
What's the answer?
If you are not thinking of selling your home, no leaflet will persuade you to do so.
What they really should be doing is explaining to people who ARE thinking of selling the reasons why that particular agent is the one to choose.
The same thinking applies to other sectors. If someone has landed on your website, they are already interested in who you are or what you sell. So you don't need to persuade them of that. What you need to do is explain why they need YOU and not the competitor down the street or one click away.
That often means having a 'why us' page as well (or instead of) an 'about us' page. I know I've won business because of mine, because people tell me when they contact me.
Anyway, let's get back to the estate agents, and more lessons you can learn from their mistakes.
Coady Phillips
Coady Phillips delivered a card headed 'Our stunning new Beckenham High Street office is now open…'
It's all about them. Why should we care about how stunning their office is? It's our fees that have paid for their refurbishment. And we'll probably never see it anyway, because most of us prefer to communicate online these days.
If they really wanted visitors, they could have hosted an event e.g. 'Join us for a cheese-and-wine evening in our stunning new office' or 'Free coffee and cake when you call in to our High Street office' or 'Dog lover? Visit us anytime to meet Pudsey the office pug'. (I don't know if that's its name, but the dog is featured in all their marketing.)
The other side of the card has a picture of the MD (and the pug). Here's what it says (with my added commentary, line by line):
A Personal Invitation
No it isn't. It's a generic invitation. Don't lie to me. Estate agents have a bad enough reputation already.
For over 27 years we have dedicated ourselves to providing a friendly, professional service to help people like you buy, sell rent, let or manage property in the local area.
It's only wise to start with how long you've been trading if that's the thing that is most important to your customers. For many goods and services, long-standing traditions are going out of the window (to use a property-related metaphor). For most things we buy today, we want the most up-to-date approach. We don't value longevity.
We might want to know we're dealing with an established firm, not a flighty upstart, but it's usually best to mention that at the end not the beginning, and add what your years of experience mean to the reader. Say something like 'We've been doing this since [year] so you can be confident we know what we're doing' or '…which means we know the local area like the back of our hand'.
Notice that I suggest using a date rather than a number of years. That's so the communication doesn't need to be updated every January.
…we have dedicated ourselves
This fails the 'who cares' test. No-one cares how proud or dedicated you are. They only care what's in it for them.
…a friendly, professional service
This is stating the obvious. It's the minimum expectation. It's like saying the car has wheels. If you really are more friendly or professional than anyone else, then give examples. Make it seem real. Give us specific details. Otherwise noone will take it seriously.
…help people like you
As a potential customer, I'm not really interested in 'people like me', I'm only interested in me. If you want to go down this route, then tell a story, give a case study, or share a testimonial. People love the human interest angle, and your copy will always be stronger when you include evidence to support your claims.
…buy, sell rent, let or manage property
Note that the missing comma is in the original. Did you spot it? I did. And any error makes you look less professional.
As an estate agent, you probably do all five things. But, as a reader, I only do one of them. I am either looking to buy a property or sell one. To rent a property or let it (with or without property management services). That means you need four or five leaflets – sorry about that – one for each target market.
Unlike their leaflets, estate agent websites are usually pretty good at directing people down one path or the other:
Property purchasers only want one thing – to search properties for sale.
Potential vendors only want one thing – to arrange a valuation.
Renters want to search properties for rent.
Landlords want to find quality tenants quickly so they don't have empty rooms.
And they all need to know why this particular estate agent is the one to choose.
Most estate agent websites have separate features on their home page, one for each audience.
In this respect, other sectors aren't as good as estate agents. Many of them lay out ALL their wares for sale on their website, or as a drop-down menu list of services, (metaphorically) saying "Roll up, roll up and buy something!"
This approach makes the customer work hard, instead of making it easy for them.
What you really need to do is direct people down the right path from your homepage. So, for example, if you serve both trade and retail customers, have clear calls to action so those different audiences can see at a glance where they need to go to find the information that only they need.
Back to the Coady Phillips copy:
We wish to offer you a free, no obligation market appraisal of your home.

Noone cares what they wish. And of course the appraisal should be free and without obligation. What they need to say is something from the readers' point of view, such as 'Thinking of selling?' or 'Wonder what your house is worth?' Then explain that they'll give you a valuation at no charge and with no pressure.
To discuss your plans in the strictest confidence, why not pop in or call us to arrange a meeting at a time and place convenient to you.
At least they end with a call to action. But I don't think they need to mention that it's confidential. Most of us don't imagine they will run to social media saying 'You'll never believe the state of the house I valued today!' Mentioning confidentiality puts the question in the mind of the reader.
By the way, if you start a phrase with 'Why not', you should really end it with a question mark – although that's just me being a picky copywriter.
Obviously the meeting will be at a time and place that's convenient, because if it's not it won't happen. It's a common mistake, but it just doesn't need saying.
Foxtons
Foxtons delivered a letter to the 'Legal owner'. It's headed 'We are valuing property in your area'. A headline is a good idea, but that goes against all the standard headline-writing advice, because it doesn't answer What's In It For Me from the reader's point of view.
It opens 'Dear Sir or Madam'. Wouldn't it be nice if they bothered to personalise it? All the evidence shows that you get more response that way.
The first line reads 'We would like to offer you a professional opinion of the sales or rental value of your property in today's market.'
Sigh. Another message that's all about them and their wants and needs, and nothing at all about mine.
It ends 'We'd be delighted to hear from you'. Of course they would. They want to make a pile of commission out of me.
The letter is dated 1 April 2019. Sadly, it's not an April Fool. It's deadly serious. What a missed opportunity! Wouldn't it be fun if they attempted to tie their communications into a topical context? To make their letter funny, spontaneous and genuine, not just money-grabbing and greedy?
Proctors
At least they tried something different – they delivered a small laminated desk calendar for 2018/19. But I don't think it works either. I can't imagine anyone who actually folded it and used it. What's the point? Don't we all use smartphones these days? And, even if anyone did keep it, I can't imagine they thought to themselves: 'I need an estate agent. Oh yes, I must use the one whose contact details are on that little calendar over there'.
If you use branded promotional materials, then at least pick something creative and useful. Ensure it makes sense for your sector so it stands out. Be different. Make it memorable.
OK, rant over.
The good news
I've been approached by one local estate agent to help with their copywriting, so perhaps I can start to turn the tide on this flood of top-down messaging.
Alternatively, maybe I need to move to an area where the estate agents have a bit more imagination. Do you know anyone who might want to sell my house?
Further reading

Are you writing your marketing communications from a top-down perspective? To find out more, see my other articles on the subject:
* I don't really get angry. More indignant. Just frustrated that so many businesses are wasting their money on printing leaflets that don't work as well as they could.