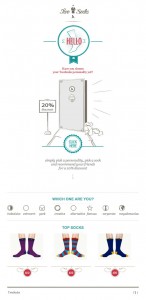 I'm not the target market, but I've recently received another email from TwoSocks.com (click to enlarge the image on the right).
It invites me to pick my 'personality' from a choice of eight. That links through to the website where they show me socks to match.
I think this marketing approach is genius, for two reasons. First, because we're in an age when people WANT to interact on-screen, and second, because it takes the customer as the starting point.
Everybody should be doing it.
—
For example, I wrote a website for a local recruitment company. They started off with a home page that had five icons with captions, one for each of their main services. Recruitment. Head-hunting. Training. You know the sort of thing. (more…)