Yesterday (and today), social media has been flooded with the news of David Bowie's death. Even I added a Ziggy flash to my profile picture (see below). I've never done anything like that before.
Continual reinvention
I can't say anything much about Bowie's creativity – singing, acting, painting – that hasn't already been said, so I won't. Except to point out that he is famous for continually reinventing himself to stay ahead of the curve (or draw a new one).
Top tip: What can you change to be different from the rest?

Newsjacking
Newsjacking means hijacking the news. I did it with my temporarily adapted profile pic. I'm doing it with this blog post.
As an aside, "Hi Jac!" is what my colleagues used to say when I walked into the office. They said "Hey, Rick!" to my assistant. Such fun.
Top tip: What's topical that you can hijack to make relevant?
Community
Brixton (Bowie's birth town) quickly displayed a message to their 'Brixton Boy'. Fans (and news teams) gathered there last night, for an emotional singalong.
Top tip: How quickly can you respond to developing events?

Beckenham (my home town) is where Bowie started his career. In 1969, he co-founded the Arts Lab at the Three Tuns pub in the High Street (now a Zizzi restaurant), launching it with a free festival in the local recreation ground (Bec Rec).
He loved the festival so much that he wrote a song about it. I love the chant at the end.
Top tip: What can you give away free to generate interest?
I walked up the High Street and saw people crying. They were even chatting to strangers to share their experiences (this is South London, remember, this kind of thing doesn't usually happen here).
Top tip: What can you do to generate even a fraction of such fan loyalty?
Bromley Council left the Bowie bandstand unlocked overnight so fans could pay their respects. It's in disrepair, but Natasha (who started the campaign) and the Friends of Bec Rec have been fundraising to refurbish it.
Top tip: How can you maintain or refresh key elements of your brand as you go along?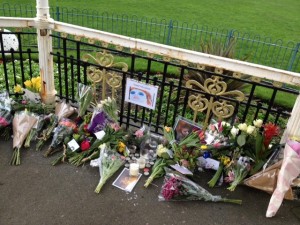 If you like this article, you might also like Queen Rocks (a guest post I wrote for Birds on the Blog).