There were a number of smoke alarms to choose from but one aspect made me pick this one. Can you guess which?
(A) Because it has a hush button
(B) Because it has a 5-year warranty
(C) Because of the brand name
(D) Because of the price
(E) Because of the copy on the back of the packaging (it's nice informative copy – I read it)
(F) Because of the helpful diagram showing where alarms should be used in the home
(G) None of the above
The correct answer is (G)
I bought it because of one little sticker reading 'Best Buy Which? Smoke Alarms October 2013'.
I picked it for one reason – a trusted recommendation.
I'm a busy person. I don't have time to shop around, do product testing and make decisions.
I trust Which? to do the shopping around, product testing and make a recommendation for me.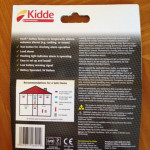 I'm very happy with my purchase.
What this means for you
Would your products and services be considered a Which? best buy?
What awards and accreditations can you claim and use as a shortcut for your customers?
How can you simplify their purchase decision?