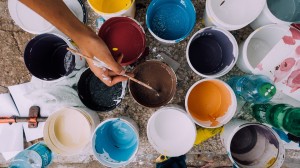 Like a painter choosing the right paint, a copywriter has to choose the right words.
But there's more to it than that.
I put it in a lot of effort upfront to get a good brief, so that I can do a great job. It's a bit like decorating a property – the secret of a fabulous finished product is all in the preparation.
It's tricky to give even a ballpark figure until we have an initial discussion.
A quick conversation would therefore be really useful for both of us – for me to understand exactly what you're looking for, and for you to get an idea about how I work and the value I can bring.
These are some of the issues we'd explore:
– Who are your potential clients? I'd include that in the copy I write, so they instantly know they've landed in the right place when they see your site
– Can you provide me with your testimonials? They are a powerful selling tool that's much more convincing than anything you say yourself. And they inspire the website wording, because talking in your existing customers' language will help persuade potential new customers
– You need to say more than 'about us', you need to answer 'why us'. Because that's what's in the mind of potential customers who land on your site to check you out. You won't convince them they need what you offer. You are trying to convince them to choose you rather than someone else
– The website is only phase 1 of any digital marketing project. After it's live, you need to drive traffic to it (via offline marketing, networking, SEO, social media and/or ads)
– Reaching page one on Google can be virtually impossible without investing loads of time, money and effort – but a blog has search engine benefits just because it adds freshness. In order to help inspire future blog content, I can also suggest questions that people actually search (this is an optional extra that many of my web copy clients find useful as part of phase 2)
– I'm sorry to say that no-one is interested in your news. Instead, your blog should add value and demonstrate your expertise. The more insights you give away, the more trust you earn
– This type of blog content can be reused, recycled and repurposed in many different ways. For example, articles can be sent to your mailing list to remind people you exist and what you do, posted on LinkedIn to reach another network and help you be perceived as the 'go to' expert , and later even collated into an ebook, print book or magazine you can sell or give away. Just some ideas for phase 3
– If you decide to proceed, I'd like to talk to your web designer, or can recommend one of mine. I can then liaise direct with them about techie stuff. Also, I can then write to fit the new page layout (or they can design to fit the words I write)
– As for timing, note that I am usually booked up for *at least* two weeks in advance. As you may know, I travel the country training people how to write better, as well as writing copy myself. This means I am often away from my desk. That said, I can usually move things around if required, so it's always worth asking the question
What this means to you
I ask 20 'discovery' questions before I give a quote. There is no charge or obligation at this stage. But, as you would probably agree, success is all in the prep.