If you read my articles regularly, you'll know I am always banging on about the fact that all marketing has an objective.
So, what's the objective of your business card? It's a tiny piece of marketing, usually about 88mm x 55mm, but with a very important job to do.
First, let's put it into context.
The most likely time you will give someone a business card is when you meet them at a networking event, or if they ask for it after you've delivered a talk. Either way, you will be face to face with the recipient.
Chances are, they will come away from the occasion with a whole pile of business cards.
What are you hoping they will do with your card? I suggest you want them to:
Recognise you now, and remember you in future
Contact you for a followup conversation, or even a quote
Become a friend, fan, or follower on your social media
Maybe pass your card on to a contact of theirs who might need you*
However, they will probably put all the cards they've collected straight into the recycling bin. if you're lucky, they might scan them first, or add your contact details to their address book. If you're very unlucky, they might add you (illegally) to their mailing list, and send you newsletters forever afterwards.
So how do you make your business card stand out and achieve your objectives?
Case study
As you may recall, I travel the country (sometimes the world) training and speaking about copywriting.
Last month, I was in Edinburgh and Glasgow with Mitch Sullivan, training recruiters how to write better job ads. While there, I took the opportunity to speak at PSA Scotland. The other headliner that night was Julie Holmes, who shared the inside secrets of her speaker business. She also distributed her business card.
Here's a scan of the front, lying on my desk:
What do you notice about it? Here are a few key points I picked up:
Professional, smiling picture

This is important, because if a person has come away from an event with lots of cards, a picture of you will help them identify which card is yours. Also, psychologically speaking, eye contact is important for making a human connection. So get over your modesty and put your profile photo on your card (you can use the same image all over your social media and other digital marketing)

She trades under her own name

If *you* are what you are selling, it makes sense to use your own name as your business name. I learned this the hard way. My official business name for legal and accounting purposes is Jackie Barrie T/A Comms Plus, but I soon realised that people book me because I'm me, so I now use Jackie Barrie in all my marketing

Consistent branding

When you check Julie's website, red is the predominant colour. Don't make people think too hard. When they see any marketing piece from you, it should have the same look, feel and tone of voice so they can be confident at a glance that they are in the right place and dealing with the same person

Contact details

The front of the card tells you what she does 'Speaker, advisor, mentor', and the unique way she does it 'Ambassador business' and 'Ambassador selling'
It includes her contact details. This make things really easy. You don't even need to turn the card over to get in touch. We're all really busy. Anything you can do to save people time is a good thing
She states she is based in London, UK. This is particularly relevant, because Julie is American. Note that, these days, most people don't need your full postal address
It includes her mobile number with international dialling code. These days, you don't need a landline. People no longer assume that providing just a mobile number means you are a fly-by-night unprofessional
The email address starts with a friendly 'hello'. I'm pretty sure she has more than one email address. This matches the email address on her website – but you usually get at least ten email addresses included with every domain name, so you could use a separate email address just for your business cards, so you know whether or not they are working
Remember, the objective is for people to be able to read it and get in touch, easily. So make the font large and clear enough to be legible
Remember that a business card is two-sided. If you don't include content on the back, you are missing a marketing opportunity.
Here's the back of Julie's card: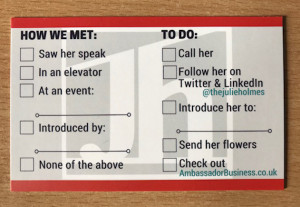 It's even more interesting. Here are a few things I notice about it:
The branding continues, with her JH logo in the background, and red borders top and bottom
The card invites interaction, with tick boxes to remind people how they met her
There are also tick boxes to prompt people to take action, including everyone's favourite 'Send her flowers'. This adds a touch of personality and humour. People comment on it, so it helps build the conversation and the relationship. No doubt, it also results in people sending Julie flowers

People are obedient. They do what you tell them. For example, there is a LinkedIn expert who includes the word 'Chocoholic' in his professional headline. As a result, people send him chocolate. What can you ask for in your marketing?
What this means to you
Before you design and print your card, you have a lot of decisions to make.
Your business name
Your brand (both the look and feel through logo, colours and fonts, and the tone of voice through copy)
Your core message (USP)
Your image (professional headshot)
Your job title (if you have one; I'm not sure they are always necessary)
Your contact details (post if relevant, landline if relevant, mobile, email, web, social media…)
Top tip
Even business cards cost money to design and print. So don't give yours away willy-nilly. Only give it to people you actually want to stay in touch with. Better yet, ask for theirs, and retain control of the follow-up communication.
Sorry if this analysis is longer than you expected. Who would have thought there was so much to say about a simple business card? But if that's the amount of thought that goes into a business card, imagine what goes into a website.
P.S. It has been said that the best business card in the world is a book. It adds value and demonstrates expertise, is memorable, contains your contact details, and maybe gets passed on – all the things you want a business card to do. However, that's not the only reason I'm writing another one. Watch this space for more details, coming soon.
*Although I've never known this to be effective.