We're rapidly heading towards 29 March 2015, when those of us in the UK have to set our clocks forward one hour for British Summer Time.
I don't know about you, but I always have to look up how to do it. I'm not the only one, as shown by this quote from Simple: Conquering the Crisis of Complexity by Alan Siegel and Irene Etzhorn:
"The more luxurious your car, the more likely its owner's manual will fill your entire glove compartment, and you still won't be able to reset the clock."
The world's most famous copywriter is probably David Ogilvy. And his most famous ad is probably the one he wrote for the Rolls-Royce Silver Cloud in 1958.
The headline read: 'At 60 miles an hour the loudest noise in this new Rolls-Royce comes from the electric clock'.
When I was at journalism college, we were told he presented the ad to the Big Boss at Rolls-Royce who responded: "Hmm, must do something about that clock".
Today, bloggers speculate whether Ogilvy was inspired by a similar ad that ran about 20 years earlier for Pierce-Arrow.
Either way, the headline focuses on just one thing. It doesn't talk about the engine, the gearstick or the guarantee. It doesn't mention the logo, the paintwork or the brakes. Those things are described in the body copy.
The headline tells you that Ogilvy spent time researching the car. That a Rolls-Royce customer would respond to facts, not fluff. And that a quiet engine is an important selling point for a luxury vehicle.
Remember that word – quietness.
In the 1960s, the VW Beetle was launched in the US with an ad headlined, simply: 'Lemon'.
The body copy goes on to explain that this particular car failed the quality assurance test because of a blemish on the chrome trim on the glove compartment. It reassures you that the VW you buy has passed all the tests so will last longer, require less maintenance, and depreciate more slowly than other cars.
Remember that word – quality.
For decades, Volvo have been obsessed with one thing. It's something they know is important to the buyers of a family car. It guides their advertising, but also drives every decision they make on the factory floor.
You know that word – safety.
Why do you need to know this?
Because people buy based on emotion, so that's what you're selling. Choose an emotion, and communicate it simply.
Is there such a thing as too simple?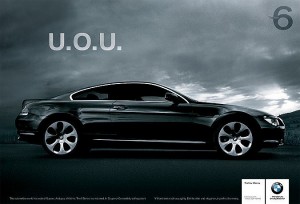 More recently, BMW advertised a luxury model with just three letters: 'u.o.u.'
I'm guessing it stands for 'You owe you' – a variation of the L'Oreal message 'Because you're worth it'. However, it's a bit too cryptic for me.
Unlike the other iconic ads mentioned in this article, I had to Google this because I couldn't remember which brand it's advertising.
I'd like to sum it up in one word like the others, but I can't.
In my book, that's a #fail.